The Award Recognizes Banks and Credit Unions for Their Extraordinary Efforts to Increase Financial Stability During the Annual America Saves Week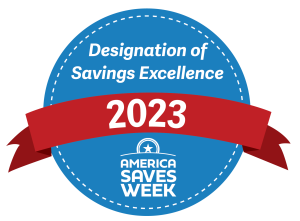 Today, America Saves announced FNB Bank, Inc. (FNB) as a recipient of the 2023 Designation of Savings Excellence Award (DOSE), the only national award focused on recognizing financial institutions for their work in helping Americans improve financial stability. The coveted honor highlights banks and credit unions that made an extraordinary effort to promote positive saving behaviors in their community during the annual America Saves Week campaign.
FNB was one of only 15 recipients to be honored this year out of more than 3,900 organizations who participated in America Saves Week in 2023, which took place February 27 – March 3.
"America Saves has the distinct honor of working with financial institutions that actually care about their customers and members," said Kia McCallister-Young, Director of America Saves. "That has always been a stand-out point to me, that the organizations that participate in America Saves Week go the extra mile; there's no requirement to be a part of this campaign, they're here because they WANT to be, and they believe in the message of helping their employees, constituents, and community be more financially confident. We're thrilled to be able to honor these banks and credit unions and highlight their hard work."
America Saves Week is a time-honored, national event bringing together thousands of organizations across multiple sectors to transform the lives of Americans by encouraging them to save successfully. FNB alongside other participating financial institutions helped reach nearly nine million people and during the weeklong event, individuals deposited more than $788 million into new or existing savings accounts.
"We are proud to be recognized as one of the eight banks across the nation to earn the annual America Saves Designation of Savings Excellence award," stated Brooke Wiles, FNB Marketing Director. "We believe it is more important than ever for individuals to save money and be prepared for the unexpected.  FNB customers are the real winners here, as they make the commitment to save money far beyond America Saves Week."   
2023 Designation of Savings Excellence (DOSE) Award Recipients:
Banks
First Commonwealth Bank
WesBanco Bank, Inc.
FNB Bank, Inc.
First Arkansas Bank and Trust
Cadence Bank
Simmons Bank
Mechanics Bank
The First Bank
Credit Unions
Tucson Old Pueblo Credit Union
New Horizons Credit Union
Baylands Family Credit Union
Westmark Credit Union
Eaton Family Credit Union
Red River Credit Union
Unitus Community Credit Union
About FNB
FNB Bank, founded in 1875, is one of the oldest banks in the state of Kentucky with assets exceeding $660 million.  FNB ranks among the highest in the nation in the area of safety and soundness. The bank currently has ten offices located in Graves, McCracken, Calloway, Trigg and Marshall County. FNB is Member FDIC and an Equal Housing Lender.
About America Saves
America Saves is a campaign managed by the nonprofit Consumer Federation of America that uses the principles of behavioral economics and social marketing to motivate, encourage, and support low-to-moderate income households to save money, reduce debt, and build wealth. America Saves encourages individuals and families to take the America Saves pledge and organizations to promote savings year-round and during America Saves Week. Since its inception, over 12,000 organizations have participated in America Saves Week to promote savings to their communities. Learn more at americasaves.org.