Groundbreaking Ceremony to be held at FNB's Main Office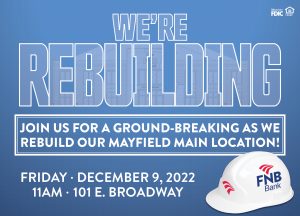 FNB Bank is proud to announce that a groundbreaking ceremony will be held on Friday, December 9th at 11 AM to officially mark the rebuilding phase of FNB's Mayfield Main Office, located at 101 East Broadway. The ceremony will take place on the eve of the 1-year anniversary of the catastrophic tornado that caused irreparable damage to FNB's Mayfield Main Office.
"We are excited to rebuild our Main Office location on the same block that FNB has been located on since 1875," stated Sally Hopkins, FNB President & CEO.  "We are deeply grounded in this community, and we are eager to serve our customers again at our original home on Broadway.  We are committed to our rebuilding efforts in Mayfield and look forward to rebuilding back with many other neighbors in 2023."
The newly constructed Mayfield Main Office is estimated to be completed in late 2023. A temporary mobile unit office is currently operational at 201 North 8th Street in Mayfield and will operate through the rebuilding phase of the Main Office. FNB customers can also continue accessing our Mayfield South Office, located at 310 Charles Drive, for full-service banking.
FNB Bank, founded in 1875, is one of the oldest banks in the state of Kentucky with assets exceeding 650 million.  FNB ranks among the highest in the nation in the area of safety and soundness. FNB is a 2021 and 2022 'Best Places to Work in Kentucky' Small Business Category Award Winner.  The bank currently has ten locations located in Graves, McCracken, Calloway, Trigg and Marshall County. FNB is Member FDIC and an Equal Housing Lender.
Kentucky was on the frontier. Now you are.
The frontier was always about wanting more. Since 1875, we've made it our mission to help jump start small business and farming in the communities we call home. You're ready to start something. We're ready to help. Start by watching the stories that started at FNB.