DREAM Together Check Presentation for Barger Realty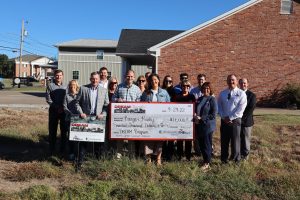 A check presentation was held on Thursday, September 29th, to present DREAM Together funds to Barger Realty in the amount of $17,000.  Barger Realty is the latest local business to take advantage of the DREAM Together partnership program offered by FNB Bank and First Kentucky Bank. The DREAM acronym stands for Downtown Revitalization & Economic Advancement for Mayfield.  Together, both Mayfield-based banks have partnered to provide incentives and low interest loans for businesses that want to rebuild and invest again in downtown Mayfield.  The collective goal of FKB and FNB is to stimulate economic development and put jobs back in one of the hardest hit areas in the community.
Barger Realty is rebuilding at their former site 328 S 6th St in Mayfield. The previous building was destroyed in the December 10th, 2021, tornado. The construction is estimated to be completed in early 2023.
About FNB Bank, Inc.
FNB Bank, founded in 1875, is one of the oldest banks in the state of Kentucky with assets exceeding $680 million.  FNB ranks among the highest in the nation in the area of safety and soundness. FNB is a 2021 and 2022 'Best Places to Work in Kentucky' Small Business Category Award Winner.  The bank currently has ten locations located in Graves, McCracken, Calloway, Trigg and Marshall County. FNB is Member FDIC and an Equal Housing Lender.
About First Kentucky Bank
First Kentucky Bank is a Kentucky-based community bank established in 1899 with assets exceeding $554 million. First Kentucky provides a personal approach to finances for those in six counties, including Carlisle, Graves, Livingston, Marshall, Muhlenberg, and Ohio. They are committed to bringing customers simple ways to connect, grow, and protect their financial health in both personal and business endeavors.  First Kentucky is a Member FDIC bank and an Equal Housing Lender.
Kentucky was on the frontier. Now you are.
The frontier was always about wanting more. Since 1875, we've made it our mission to help jump start small business and farming in the communities we call home. You're ready to start something. We're ready to help. Start by watching the stories that started at FNB.