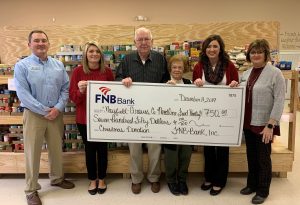 During the month of December, FNB Bank made a $1,500 Christmas donation to two worthy charities on behalf of their customers and community members.  Both the Community Christmas Connection Toy Drive for Mayfield and Graves County students and the Mayfield-Graves County Needline/Food Pantry received $750 donations to assist with daily necessities and expenses.
"It is our gift to give back this Christmas by assisting worthy charities that generously serve and make a difference in the lives of our community members," stated Brooke Wiles, FNB Marketing Director.  "We are confident that the Community Christmas Connection efforts, along with the everyday mission of the Needline/Food Pantry are vital services that positively impact Mayfield-Graves County."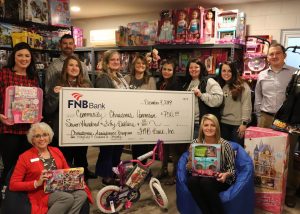 In addition to the bank's monetary Christmas donation to the Community Christmas Connection Toy Drive, FNB employees and customers donated over 87 toys to the cause, resulting in an additional $870 in donated gifts.  For more information about Community Christmas Connection, please contact Laney Dillard, Director of the Mayfield-Graves County Communication Education Program by e-mail at laney.dillard@graves.kyschools.us.  For information about the Mayfield-Graves County Needline/Food Pantry, please call (270) 247-6333 or e-mail needline-foodpantry@hotmail.com.
FNB Bank, founded in 1875, is one of the oldest banks in the state of Kentucky and ranks among the highest in the nation in the area of safety and soundness.  The bank currently has nine locations:  Mayfield Main, Mayfield Southside, Wingo, Lone Oak, Paducah, Murray North, Murray South, Cadiz Main, and Cadiz West.  FNB is member FDIC and an Equal Housing Lender.