FNB Cybersecurity Info: Privacy
October is Cybersecurity Awareness Month and FNB wants to bring you valuable weekly tips and information that will help you protect your good name.  Your accounts, social security number, and personal identification information doesn't come with a built-in alarm, so we're bringing you a variety of weekly tips to help keep your money and identity safe.  We encourage you to stay tuned to GrowWithFNB.com throughout October and let's #BeCyberSmart.
Welcome to Week 2 of FNB's Cybersecurity Awareness Month Tips.  This week we are highlighting the importance of Protecting Your Privacy.  At FNB, we see the damage firsthand of how identity theft affects our customers every day.  In 2019, 13 million consumers fell victim to identity fraud, totaling $3.5 billion in out-of-pocket costs for those consumers.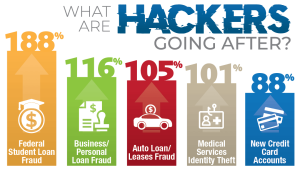 Who's most at risk for identity fraud?
Children and Senior Citizens. Children's social security numbers are a target for cyber criminals due to their credit being a clean slate.  On the opposite end of the spectrum, seniors are viewed as more trusting, thus causing them to be more vulnerable to be targeted by phone through a variety of internet and phishing scams.
Members of the Military. Military members are often suspectable to having bank and credit card fraud, as it may be difficult to detect while being deployed.
Social Media Users. Let's face it, we live in a very social media fixated culture.  Many social media users do not take the proper safety precautions when setting up their accounts and post a lot of personal information about themselves on multiple social media platforms.  With this easy to find and accessible information, there's no wonder why social media cybercrime is up 23% since 2018.
Repeat Victims. I've already been a victim of a cybercrime; it can't happen to me again.  Think again!  This is the wrong mindset to have as 7-10% of the US population are victims each year and out of those impacted, 21% of those experience multiple incidents.
The Deceased. Did you know that 2.5 million deceased identities are stolen every year in the United States?  How does this happen?  Public obituaries and social administration's Master Death File houses public information that cyber thieves utilize to their benefit.  This can potentially leave a lot of work and headache for those family members handling the estates after someone has passed.
Here are some best practices that you can implement to help protect your privacy and good name/credit:
Shredding personal documents before throwing them away.
Recycle old/expired electronics, such as old cell phones, computers, etc. that may contain personal information on them before discarding or selling them.
Sign up for free scam alerts from the Federal Trade Commission at ftc.gov/scams.
Credit cards have significant fraud protection built in and are a great way to pay for online purchases.
Get your free credit reports from annualcreditreport.com.
Let's face it, your 4-year-old doesn't need a loan. Consider a child credit freeze until they're older.  To do this, you'll need to contact the 3 credit bureaus (Equifax, Experian, and TransUnion) separately.
Go to identitytheft.gov to get personal recovery plans and advice on tax, medical, and child identity theft.
How do we protect your privacy at FNB?
We protect your personal information from unauthorized access and use and use security measures that comply with federal law.  These measures include computer safeguards and secured files and buildings. We restrict access to non-public personal information about you only to those employees who need it in order to provide our services to you.  Click here to view FNB's Privacy Policy.
Kentucky was on the frontier. Now you are.
The frontier was always about wanting more. Since 1875, we've made it our mission to help jump start small business and farming in the communities we call home. You're ready to start something. We're ready to help. Start by watching the stories that started at FNB.