FNB Cybersecurity Info: Easy Wins in Cybersecurity
October is Cybersecurity Awareness Month and FNB wants to bring you valuable weekly tips and information that will help you protect your good name.  Your accounts, social security number, and personal identification information doesn't come with a built-in alarm, so we're bringing you a variety of weekly tips to help keep your money and identity safe.  We encourage you to stay tuned to GrowWithFNB.com throughout October and let's #BeCyberSmart.
We've highlighted many resources over the last few weeks on what you can do if you fall victim to a cybersecurity scam.  In this week's edition, we will focus on the "Easy Wins" that will help individuals and businesses be proactive.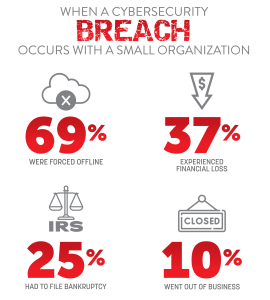 There are numerous ways we take precautions in everyday life.  It's best to have things on hand before there's a problem, right?  Football players wear pads.  We keep band-aids on hand for unexpected injuries.  We keep spare tires in the trunks of our cars in case of a flat tire.  We keep fire extinguishers on hand in case of a fire.  Your technology, data, and information should be treated the same way in our modern world.  We're going to focus on a few "Easy Wins" for you that the cyber criminals hope you're not doing.
When the bad guys aren't trying to scam and phish you, they're going to try to cause a breach.  What does this mean?  This means that cyber criminals look for vulnerabilities in your computer, cell phone, and network.  How do you prevent this from happening?  Patch Systems Regularly! This means doing Windows Updates, updating your iPhone and Android cell phone and tablets, making sure your wireless router has the latest updates. These are critical in fixing the holes that bad guys will try to get through.
Run a quality antivirus and keep it up to date.  Many antivirus programs contain parental controls that can limit access on certain devices to certain websites or even limit the time a device can be online. If bad guys try to put ransomware, viruses, or other malicious code on your device, this should find it and stop it in its tracks.
Ransomware is still out there.  Accidents happen.  Devices fail and can get lost.  Conduct backups of your system in case you need to restore your important pictures, videos, and business/financial documents you can't stand to lose.  You will also need to check your backups regularly to make sure your data is indeed there.  There are many inexpensive and even free services out there to help you with conducting backups.
Remember last week?  Use a strong password.  Length beats complexity.  Industry standards are trending towards 14- or 16-character passwords at a minimum. Think of easy to remember things like song lyrics, movie quotes, book titles, etc.
Be sure to secure your WIFI network.  Make sure your wireless is secured with a password you control to keep neighbors or people you don't know off.  This can apply when you connect to WIFI in public.  Staying in a hotel, going through an airport, or walking through a store and you jump on the free WIFI?  Who else could be on it snooping around for trouble?  Consider using a VPN service on your mobile devices that create a secure tunnel that keeps bad guys from potentially seeing your information.
Finally, have a plan for just in case. We'll discuss this more next week, but you must have a plan in place before an event happens. We teach kids how to call 911 and ask for help and where safe places are because it's common sense. Technology and information are so vital to our lives that we need to think similarly about it. Most people don't know where to start when they experience identity theft, or their computer is hacked. Not having a plan adds time, is expensive, and adds stress to a situation. Having a plan and knowing what to do will get you back faster, cheaper, and with much less stress.
Kentucky was on the frontier. Now you are.
The frontier was always about wanting more. Since 1875, we've made it our mission to help jump start small business and farming in the communities we call home. You're ready to start something. We're ready to help. Start by watching the stories that started at FNB.