FNB Cybersecurity Info: Awareness
BEING AWARE IS THE FIRST STEP TO BEING SAFE ONLINE.
October is Cybersecurity Awareness Month and FNB wants to bring you valuable weekly tips and information that will help you protect your good name.  Your accounts, social security number, and personal identification information doesn't come with a built-in alarm, so we're bringing you a variety of weekly tips to help keep your money and identity safe.  We encourage you to stay tuned to GrowWithFNB.com throughout October and let's #BeCyberSmart.
Welcome to Week 1 of FNB's Cybersecurity Awareness Month Tips.  Our first focus is bringing you a Cybersecurity Awareness overview that you can apply at home and at work.  There's a common misconception that individuals and small businesses in rural America are immune to cybersecurity attacks.  The statistics are staggering and prove quite the opposite.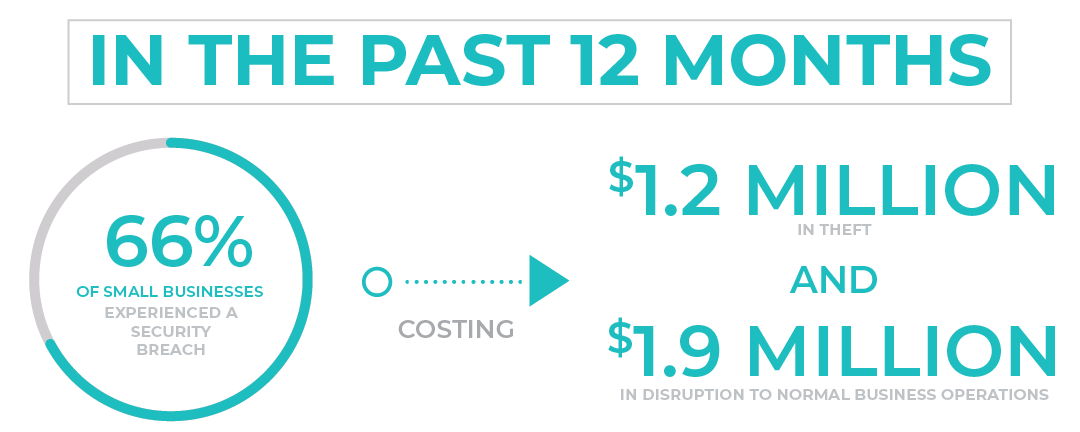 What's the number one attack method used by hackers today? Phishing…and we don't mean the kind you do at the lake!
Phishing is the fraudulent practice of sending emails claiming to be from reputable companies and people in order to induce individuals to reveal personal information, such as passwords and credit card numbers.  Here's the scary part.  To protect yourself from a Phishing attempt, you must be correct 100% of the time.  It's always best to be cautious.  By simply clicking on a link in a phishing attempt, you can instantly have malware deployed on your computer.
What is malware?
Malware is software that is specifically designed to disrupt, damage, or gain unauthorized access to a computer system.  Out of all the phishing attempts, 94%+ malware is delivered via email.  The best rule of thumb when protecting yourself from phishing attacks is to look before you leap.  Do not click on any links or open attachments contained in the suspicious email.  Do not enter personal information in a pop-up screen, as legitimate companies do not use this method for collecting information.  From there, you can delete or not respond to the suspicious e-mail.
At FNB, we encourage you to utilize free resources that help protect you against cybercrime.  We encourage you to check out the United States Computer Emergency Readiness Team's (US-CERT) website.  You can sign up to receive text and e-mail security tips, alerts, and bulletins, as well as information and training for home and small business users.  We recommend you to check out the following links to access the large variety of resources: https://us-cert.cisa.gov/home-and-business and https://us-cert.cisa.gov/ncas/tips.
Kentucky was on the frontier. Now you are.
The frontier was always about wanting more. Since 1875, we've made it our mission to help jump start small business and farming in the communities we call home. You're ready to start something. We're ready to help. Start by watching the stories that started at FNB.