Tyler Goodman Joins FNB Bank as Business Banking Officer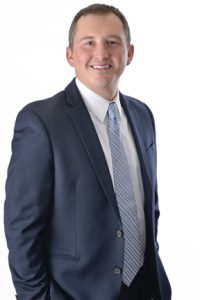 February 15, 2019 (Mayfield, KY) FNB Bank is proud to announce that Tyler Goodman has joined FNB and will be serving the Mayfield-Graves County market as a Business Banking Officer. In this position, Tyler will be developing new customer relationships and working with existing agriculture and commercial loan clients.
"We could not be more pleased to have Tyler join the FNB team.  His deep Graves County roots and passion for serving his home community are a perfect fit with FNB's values," stated Marty Nichols, FNB President and CEO.
Goodman is a 2002 graduate of Graves County High School and a 2006 graduate of the University of Kentucky where he earned a bachelor's degree in Political Science. He serves as a board member for the Mayfield-Graves County Needline Food Pantry, the Mayfield-Graves County Chamber of Commerce and the Mayfield Graves County Airport. Tyler is also actively involved with Mayfield Rotary Club and recently began serving his second term as a Graves County Commissioner. He resides in Mayfield with his wife, Alex.
FNB Bank, founded in 1875, is one of the oldest banks in the state of Kentucky and ranks among the highest in the nation in the area of safety and soundness.  The bank currently has eight locations:  Mayfield Main, Mayfield Southside, Wingo, Lone Oak, Paducah, Murray, Cadiz Main, and Cadiz West.  FNB is member FDIC and an Equal Housing Lender.
Kentucky was on the frontier. Now you are.
The frontier was always about wanting more. Since 1875, we've made it our mission to help jump start small business and farming in the communities we call home. You're ready to start something. We're ready to help. Start by watching the stories that started at FNB.