Sam Mahan Named Senior Operations Officer at FNB Bank
MAY 10, 2018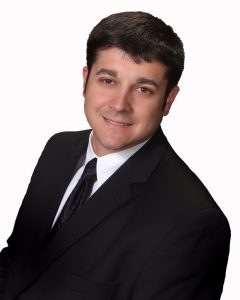 May 10, 2018 (Mayfield, KY) FNB Bank is proud to announce that Sam Mahan was recently named Senior Operations Officer. Mahan has 15 years of banking experience having previously served as Relationship Manager and Commercial Loan Officer for FNB Bank.
"I am honored and excited about this new opportunity at FNB.  Being tasked with leading and developing multiple departments, I look forward to doing my part to make FNB the most responsive, innovative and user-friendly banking partner in the markets we serve," stated Mahan. Sam is a 2002 graduate of Tennessee Tech University with a Bachelor's degree in Marketing. He also graduated from Southeastern School of Banking in 2009, Southeastern School of Commercial Lending in 2010, and Graduate School of Banking at LSU in 2017. He currently serves on the Mayfield-Graves County YMCA Board of Directors. Sam resides in Mayfield with his wife, Tracie and their three children: Max, Callen and Sadie.
FNB Bank, founded in 1875, is one of the oldest banks in the state of Kentucky and ranks among the highest in the nation in the area of safety and soundness.  The bank currently has eight locations:  Mayfield Main, Mayfield Southside, Wingo, Lone Oak, Paducah, Murray, Cadiz Main, and Cadiz West.  FNB is member FDIC and an Equal Housing Lender.