Riley Beth Willett Joins FNB Bank as Mortgage Loan Officer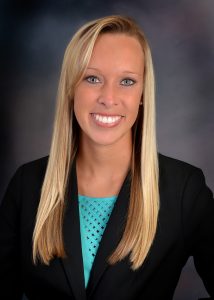 December 20, 2018 (Mayfield, KY) FNB Bank is proud to announce that Riley Beth Willett (Smith) has joined FNB and will be serving the Mayfield-Graves County market as a Mortgage Loan Officer. Willett has worked as a realtor for the past four years and looks forward to using her real estate experience in her new position with FNB.
"We are excited to have Riley Beth join the FNB team," stated Lori Noel, FNB Chief Lending Officer.  "Her background in real estate will benefit her clients as they work through the home mortgage process.  She has a strong passion for her community and service to others and will be a tremendous asset to FNB."
Riley Beth is a 2011 graduate of Graves County High School and a 2015 graduate of Murray State University with a Bachelor of Integrated Studies degree. She earned her Master's in Business Administration from the University of Cumberlands in 2017. She is currently involved with the Graves County Middle School/Graves County High School Family Resource Advisory Council, Mayfield-Graves County Appeals Board, Graves County Agency for Substance Abuse Policy/Prevention Board and the Mentoring Program for several local schools. She resides in Farmington with her husband, Tyler, and their son, Ben.
FNB Bank, founded in 1875, is one of the oldest banks in the state of Kentucky and ranks among the highest in the nation in the area of safety and soundness.  The bank currently has eight locations:  Mayfield Main, Mayfield Southside, Wingo, Lone Oak, Paducah, Murray, Cadiz Main, and Cadiz West.  FNB is member FDIC and an Equal Housing Lender.
Kentucky was on the frontier. Now you are.
The frontier was always about wanting more. Since 1875, we've made it our mission to help jump start small business and farming in the communities we call home. You're ready to start something. We're ready to help. Start by watching the stories that started at FNB.