Lori Noel Named Executive Vice President for FNB Bank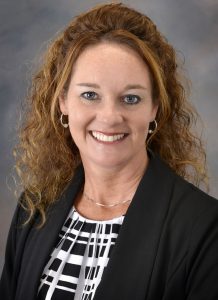 FNB Bank is proud to announce that Lori Noel was recently named Executive Vice President for FNB.  Lori has an extensive banking background with over 28 years of experience, having previously served as Vice President/Commercial Lender and Senior Vice President/Senior Lender for FNB.  Lori also currently serves as Chief Lending Officer for FNB.
"Lori is a leader in our company, not only in her role as Chief Lending Officer, but also in her vision for the bank as a whole," stated Sally Hopkins, FNB's President and CEO. "Lori's years of experience in Commercial, Agriculture and Mortgage Lending are invaluable to FNB. Having Lori on our executive management team makes FNB stronger and I am confident that under her leadership, FNB will continue to provide and expand our lending services in the communities we serve."
Lori is a 1992 graduate of Marshall County High School and attended Murray State University.  She is a graduate of the Southeastern School of Advanced Commercial Lending and Kentucky Bankers Association General Banking School.  She is enrolled in the Graduate School of Banking Wisconsin for the 2021-2023 program.  Lori has previously served on the Junior Achievement of Calloway County Board, as a Board Member and Treasurer for Calloway County Livewell Booster Club and is a former Rotary member.  Lori and her husband, Robbie, currently reside in Kirksey.  They have four sons: Trevor, Tyler, Colton and Colby.
FNB Bank, founded in 1875, is one of the oldest banks in the state of Kentucky and ranks among the highest in the nation in the area of safety and soundness.  The bank currently has nine locations:  Mayfield Main, Mayfield Southside, Wingo, Lone Oak, Paducah Midtown, Murray North, Murray South, Cadiz Main, and Cadiz West.  FNB is member FDIC and an Equal Housing Lender.
Kentucky was on the frontier. Now you are.
The frontier was always about wanting more. Since 1875, we've made it our mission to help jump start small business and farming in the communities we call home. You're ready to start something. We're ready to help. Start by watching the stories that started at FNB.