FNB's Murray South Office is Now Open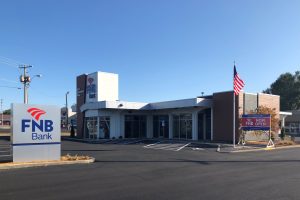 FNB's Murray South Office, located at 611 South 12th Street in Murray is NOW OPEN! The second location in Murray will provide an extra level of convenience for customers on the opposite side of town from our existing Murray Office, located at 1445 Lowes Drive.  The new banking facility is FNB's first concept branch. The branch offers new modern banking amenities, such as a self-serve kiosk and image deposit-taking ATM.  All the while, the new office will still offer traditional banking services and delivery channels to appeal to all customers bases. Office hours will be:
Lobby Hours
M-Th 8:30 – 4:00
Fri 8:30 – 5:00
Drive-Through Hours
M-Th 8:00 – 4:00
Fri 8:00 – 5:30
Sat 8:30 – 12:00
The Grand Opening Event for FNB's Murray South Office is scheduled for Friday, October 25th. The event will take place from 8:30 AM – 4:00 PM with the Chamber Ribbon Cutting at 11:00 AM. Click here for more information about the Grand Opening: https://growwithfnb.com/murraysouth-grand-opening-vip/.
You can also follow our Grand Opening Event Page on Facebook to stay up to date on full details: https://www.facebook.com/events/450121165850887/. 
Kentucky was on the frontier. Now you are.
The frontier was always about wanting more. Since 1875, we've made it our mission to help jump start small business and farming in the communities we call home. You're ready to start something. We're ready to help. Start by watching the stories that started at FNB.