FNB's Crystal Balentine Awarded 2022 HR Professional of the Year
JANUARY 25, 2023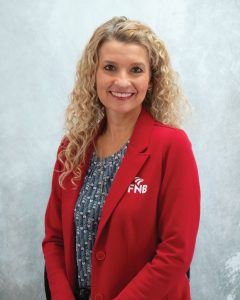 Each year, the Four Rivers Society for Human Resource Management (SHRM) recognizes individuals who have made a significant contribution to the HR profession in the last year by awarding them one of the Chapter's Awards of Excellence.  FNB's Crystal Balentine, Senior Vice President and HR Officer, was recently awarded the 2022 HR Professional of the Year Award.
Crystal has worked in the financial services industry for over 25 years with 15 of those years serving as an HR Professional for FNB Bank. She is a certified Professional in Human Resources and has a Bachelor of Science degree in Human Resources Management from Western Governors University. Crystal is currently the President of Four Rivers SHRM, member of the Paducah Lions Club, member of the Leadership Paducah Alumni Association and a member of the inaugural Leadership West Kentucky Class. Crystal also serves on the McCracken County High School FRYSC board.
Following her Award, Crystal was asked to write a blogpost for the Four Rivers SHRM blog. The blog features content from human resource professionals across Western Kentucky & Southern Illinois. Balentine's blog post is titled "Never Stop Learning" and can be read here: https://fourriversshrm.wordpress.com/2022/12/09/never-stop-learning/.
FNB Bank, founded in 1875, is one of the oldest banks in the state of Kentucky with assets exceeding $650 million.  FNB ranks among the highest in the nation in the area of safety and soundness. FNB is a 2021 and 2022 'Best Places to Work in Kentucky' Small Business Category Award Winner.  The bank currently has ten locations located in Graves, McCracken, Calloway, Trigg and Marshall County. FNB is Member FDIC and an Equal Housing Lender.