FNB + Wendy's of Mayfield Raise Over $1,700 Through Fundraising Chili Lunch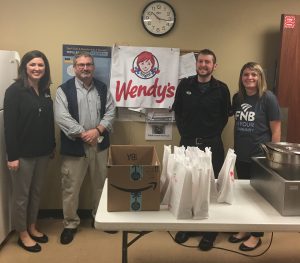 February 13, 2019 (Mayfield, KY) FNB Bank recently partnered with Wendy's of Mayfield for a Fundraising Chili Lunch to benefit the Feeding America Backpack Program for Mayfield and Graves County Schools and the Graves County Child Advocacy Program. The lunch consisted of a cup of Wendy's chili, a pimento cheese sandwich, crackers and a dessert all for a $5 donation.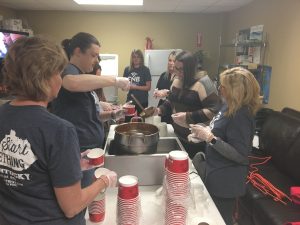 Wendy's donated the chili, crackers, hot sauce, cutlery and napkins to the cause while FNB employees donated money to go towards the purchase of other necessary supplies. The lunch took place on Wednesday, February 6th at FNB's Mayfield Main Office. Various businesses, organizations and individuals in the community placed over 300 orders which resulted in a profit of $1786.34 that will go towards the two philanthropies.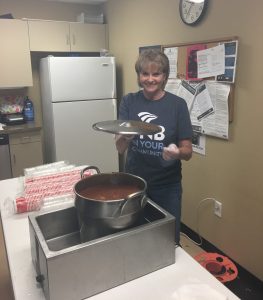 FNB Bank, founded in 1875, is one of the oldest banks in the state of Kentucky and ranks among the highest in the nation in the area of safety and soundness.  The bank currently has eight locations:  Mayfield Main, Mayfield Southside, Wingo, Lone Oak, Paducah, Murray, Cadiz Main, and Cadiz West.  FNB is member FDIC and an Equal Housing Lender.
Kentucky was on the frontier. Now you are.
The frontier was always about wanting more. Since 1875, we've made it our mission to help jump start small business and farming in the communities we call home. You're ready to start something. We're ready to help. Start by watching the stories that started at FNB.