FNB Sponsors T-Shirts for Graves County Schools
AUGUST 21, 2020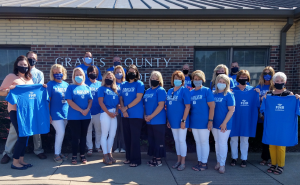 FNB Bank is proud to announce the sponsorship of Graves County School's staff t-shirts for the 2020-2021 school year. The shirts were distributed to all employees of Graves County Schools to wear throughout the upcoming school year.
"We are honored to be the sponsor for this year's staff t-shirts for Graves County Schools," stated Brooke Wiles, FNB Marketing Director.  "This school year has already shaped up to be a challenging year for our local educators during the COVID-19 pandemic.  The t-shirt sponsorship is just a small token of our appreciation for the great work they do with the students in our community."
FNB Bank, founded in 1875, is one of the oldest banks in the state of Kentucky and ranks among the highest in the nation in the area of safety and soundness.  The bank currently has nine locations:  Mayfield Main, Mayfield Southside, Wingo, Lone Oak, Paducah Midtown, Murray North, Murray South, Cadiz Main, and Cadiz West.  FNB is member FDIC and an Equal Housing Lender.