FNB Makes $5,000 Donation to Trigg County Rotary Auction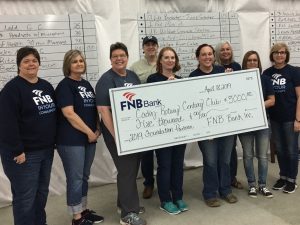 April 19, 2019 (Cadiz, KY) FNB Bank is proud to announce that they have donated $5,000 to Trigg County Rotary Auction as a part of their Century Club Sponsorship. A portion of those funds were donated as a result of the 2018-2019 philanthropic fundraising efforts in Trigg County. The donation will assist Rotary with their daily mission of serving the Cadiz community.
"Cadiz Rotary Club does so much for the youth and seniors of Trigg County and FNB is proud that our fundraising dollars support such a worthy cause. Our generous customers and local community are also to thank, as they are what makes our fundraising efforts so successful," stated Kyle Hensley, FNB Vice President and Loan Officer.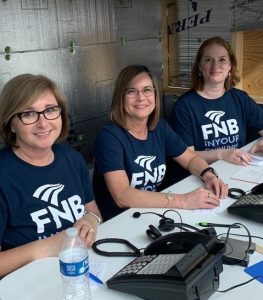 FNB employees coordinated and participated in numerous fundraising events benefiting the Rotary Auction.  In October 2018, FNB hosted the 6th Annual Holiday Shopping Extravaganza at the Trigg County Recreation Complex.  The event hosted over 40 regional vendors and the booth rental proceeds benefited FNB's selected philanthropies.   In March, FNB and Slow-N-Low BBQ teamed up together for a Fundraising BBQ Cookout.  Employees also participated in various jean days to benefit the worthy causes.
FNB Bank, founded in 1875, is one of the oldest banks in the state of Kentucky and ranks among the highest in the nation in the area of safety and soundness.  The bank currently has eight locations:  Mayfield Main, Mayfield Southside, Wingo, Lone Oak, Paducah, Murray, Cadiz Main, and Cadiz West.  FNB is member FDIC and an Equal Housing Lender.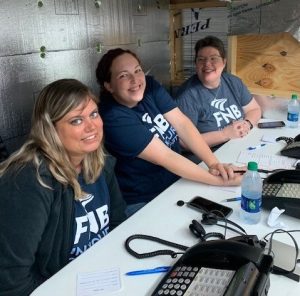 Kentucky was on the frontier. Now you are.
The frontier was always about wanting more. Since 1875, we've made it our mission to help jump start small business and farming in the communities we call home. You're ready to start something. We're ready to help. Start by watching the stories that started at FNB.