FNB Makes $5,000 Donation to Family Resource Centers for Mayfield & GC Schools
FNB proudly donated $5,000 to the Family Resource and Youth Service Centers of Mayfield Independent Schools and Graves County Schools as a result of the bank's 2020-2021 philanthropic efforts in Mayfield-Graves County. Both Family Resource Centers received $2,500 donations to assist with their efforts within the school systems, specifically their internal food bank program that supplies children in need with nutritious, easy-to-prepare foods to eat on weekends when school food isn't available.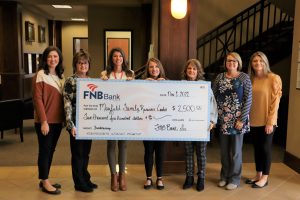 "Giving back to our local community is something we do every day at FNB," stated Brooke Wiles, FNB Marketing Director.  "It has been a challenging environment to fundraise during the COVID-19 pandemic, but we found creative ways to do so, and our community, customers, and employees were beyond supportive.  The children and youth of our community are the future, which is why the bank finds it important to give back to our local Family Resource Programs that serve the needs of our children on a daily basis."
Throughout 2020 and 2021, FNB employees coordinated and participated in numerous fundraising events benefiting the Family Resource Centers. Various fundraising efforts included a Wendy's of Mayfield Chili Lunch, a cookout at FNB's Mayfield Main Office and concession sales during the Graves County and Mayfield Battle of the Birds football game.  Employees also participated in various jean days throughout both years to benefit the worthy causes.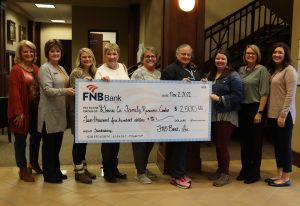 The Family Resource and Youth Service Center's (FRYSC) mission is to enhance students' abilities to succeed in school by developing and sustaining partnerships that promote early learning and successful transition into school, academic achievement and well-being and graduation and transition into adult life. This is done by helping to break any nonacademic barriers that interfere with a child's education. Services offered include parenting programs, emergency/crisis assistance, referrals for basic needs and more.
FNB Bank, founded in 1875, is one of the oldest banks in the state of Kentucky and ranks among the highest in the nation in the area of safety and soundness. FNB is a 2021 'Best Places to Work in Kentucky' Small Business Category Award Winner.  The bank currently has nine locations: Mayfield Main, Mayfield Southside, Wingo, Lone Oak, Paducah Midtown, Murray North, Murray South, Cadiz Main, and Cadiz West.  FNB is member FDIC and an Equal Housing Lender.
Kentucky was on the frontier. Now you are.
The frontier was always about wanting more. Since 1875, we've made it our mission to help jump start small business and farming in the communities we call home. You're ready to start something. We're ready to help. Start by watching the stories that started at FNB.