FNB Makes $500 Donation to The Papillion Center of Paducah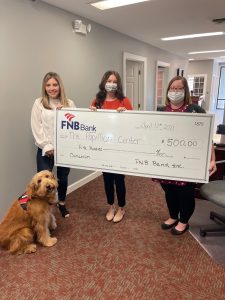 FNB recently made a $500 donation to The Papillion Center of Paducah. This donation will be used to assist with The Papillion Center's mission to provide quality services and therapies for their clients.
"FNB is proud to support The Papillion Center of Paducah with this $500 donation," stated Ike Nichols, FNB McCracken County Market President. "The Papillion Center services provide a positive impact on the community and we hope this donation will be beneficial in assisting with their mission."
The Papillion Center is a faith-based, not-for-profit 501 (c)(3) therapeutic center utilizing different techniques to bring about hope and healing to children and families in hard places. Their mission is to provide quality services and therapies that will enhance the lives of clients who seek their assistance. They specialize in those affected by Trauma, Fetal Alcohol Spectrum Disorders, Neonatal Abstinence Syndrome and Attachment issues by addressing each of the identified areas of need: social skills, emotional intervention, therapeutic parenting skills, and nutritional and neurochemistry impact. They offer services including Therapeutic Intervention, Equine Therapy, Educational Workshops, Support Groups, Advocacy and Behavior Disregulation Programs. Learn more or make an online donation at: papillioncenter.org.
FNB Bank, founded in 1875, is one of the oldest banks in the state of Kentucky and ranks among the highest in the nation in the area of safety and soundness. FNB is a 2021 'Best Places to Work in Kentucky' Small Business Category Award Winner. The bank currently has nine locations: Mayfield Main, Mayfield Southside, Wingo, Lone Oak, Paducah Midtown, Murray North, Murray South, Cadiz Main, and Cadiz West. FNB is member FDIC and an Equal Housing Lender.
Kentucky was on the frontier. Now you are.
The frontier was always about wanting more. Since 1875, we've made it our mission to help jump start small business and farming in the communities we call home. You're ready to start something. We're ready to help. Start by watching the stories that started at FNB.