FNB Makes $500 Donation to CARDS After Hours Program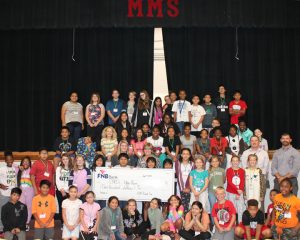 September 10, 2019 (Mayfield, KY) FNB Bank is proud to announce that they have donated $500 to Mayfield Middle School's CARDS After Hours Program.  The donation will supplement the budget for the program and be used to help provide after-school tutoring and supplies for enrichment activities.
"FNB is proud to contribute to the CARDS After Hours Program.  Our employees volunteer their time weekly for this program and we hope this donation will ensure the program continues to thrive," stated Donnitta Pyle, FNB Office Manager.
CARDS After Hours is an after-school program at Mayfield Middle School. The mission of the CARDS After Hours Program is to prepare students to be Confident, Achieving, Respectful, Dedicated Students who have the courage to confront their fears, the ambition to take a risk and a passion for what they do. There are currently 220 students enrolled in the program.
FNB Bank, founded in 1875, is one of the oldest banks in the state of Kentucky and ranks among the highest in the nation in the area of safety and soundness.  The bank currently has eight locations:  Mayfield Main, Mayfield Southside, Wingo, Lone Oak, Paducah, Murray, Cadiz Main, and Cadiz West.  FNB is member FDIC and an Equal Housing Lender.
Kentucky was on the frontier. Now you are.
The frontier was always about wanting more. Since 1875, we've made it our mission to help jump start small business and farming in the communities we call home. You're ready to start something. We're ready to help. Start by watching the stories that started at FNB.