FNB Makes $500 Christmas Donation To Genesis Express In Cadiz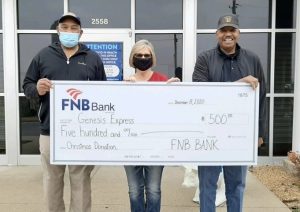 During the month of December, FNB Bank made a $500 Christmas donation on behalf of their customers and community members to Genesis Express in Cadiz, KY.
"The pandemic has made service organizations like Genesis Express even more critical to our community this year. Genesis Express serves the needs of many and we hope that this donation helps them further their efforts," stated Kyle Hensley, FNB Trigg County Market President.
Genesis Express provides programs to help community members lead valuable, productive, healthy and happy lives. The programs offered help form partnerships with different organizations and groups throughout the community and foster a commitment to the youth, elderly and needy. They also provide supplemental support for community members across all generations in the areas of education, culture, health, social and recreation.
FNB Bank, founded in 1875, is one of the oldest banks in the state of Kentucky and ranks among the highest in the nation in the area of safety and soundness.  The bank currently has nine locations:  Mayfield Main, Mayfield Southside, Wingo, Lone Oak, Paducah, Murray North, Murray South, Cadiz Main, and Cadiz West.  FNB is member FDIC and an Equal Housing Lender.
Kentucky was on the frontier. Now you are.
The frontier was always about wanting more. Since 1875, we've made it our mission to help jump start small business and farming in the communities we call home. You're ready to start something. We're ready to help. Start by watching the stories that started at FNB.