FNB Makes $300 Donation to United Way of Murray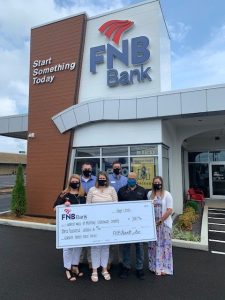 FNB's Murray Offices recently made a $300 donation to United Way of Murray-Calloway County for the COVID-19 Benevolent Fund. 100% of all donations to this fund go to support families in Calloway County. In the past four months, United Way of Murray-Calloway County assisted 49 families with rent and utility assistance in the amount of $20,613.78. This donation will help with United Way's mission to continue meeting the needs of those requiring assistance during these difficult times.
"FNB is proud to support United Way of Murray-Calloway County and specifically the COVID-19 Benevolent Fund," stated Carolyn Todd, FNB Office Manager. "COVID-19 has proven to be challenging for many families in our community and we hope that this donation will assist United Way in furthering their efforts for those in need."
United Way of Murray-Calloway County was established in 1986 and strives to improve lives by mobilizing the caring power of our community to advance the common good. Learn more or make a tax-deductible donation online at: mccunitedway.org/donate.
FNB Bank, founded in 1875, is one of the oldest banks in the state of Kentucky and ranks among the highest in the nation in the area of safety and soundness.  The bank currently has nine locations:  Mayfield Main, Mayfield Southside, Wingo, Lone Oak, Paducah Midtown, Murray North, Murray South, Cadiz Main, and Cadiz West.  FNB is member FDIC and an Equal Housing Lender.
Kentucky was on the frontier. Now you are.
The frontier was always about wanting more. Since 1875, we've made it our mission to help jump start small business and farming in the communities we call home. You're ready to start something. We're ready to help. Start by watching the stories that started at FNB.