FNB Makes $25,000 Investment to WKCTC's Healthcare Counts Campaign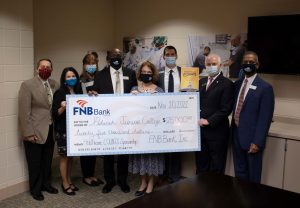 FNB Bank, Inc. (FNB) is proud to contribute to West Kentucky Community and Technical College's (WKCTC) HealthCare COUNTS Campaign with a $25,000 investment.  WKCTC recently announced their $3 million endowment campaign that will help fund and further develop the college's health care education programs.  With FNB's investment, the bank will also be naming the Allied Health Building Conference Room.
"Healthcare has always been an important field, but the last two years have showcased the need and importance more than ever during the global pandemic," stated Sally Hopkins, FNB President and CEO. "The need for more healthcare workers is great in western Kentucky and we are proud to join forces with other community minded supporters to invest in WKCTC's HealthCare COUNTS campaign.  We applaud WKCTC's initiative to help prepare more students for the healthcare workforce as we continue to face the pandemic, an aging population, and beyond."
"On behalf of WKCTC, I am extremely thankful for this significant contribution to our HealthCare COUNTS Campaign by FNB Bank, and we are honored to have such great community partners joining us in addressing regional health care shortages and needs," stated Dr. Anton Reece, WKCTC President.
The purpose of the HealthCare COUNTS endowment campaign is to address the growing need for more nurses and health care professionals.  Currently, the college has raised about 60% of the overall campaign goal. The campaign will continue through October 2022 in an effort to ultimately achieve the $3 million goal.  Interested investors for the HealthCare COUNTS campaign are encouraged to contact Lee Emmons, WKCTC Vice President of Industrial Advancement and Executive Director of Paducah Junior College at lee.emmons@kctcs.edu or by phone at 270-534-3084.
FNB Bank, founded in 1875, is one of the oldest banks in the state of Kentucky and ranks among the highest in the nation in the area of safety and soundness. FNB is a 2021 'Best Places to Work in Kentucky' Small Business Category Award Winner.  The bank currently has nine locations: Mayfield Main, Mayfield Southside, Wingo, Lone Oak, Paducah Midtown, Murray North, Murray South, Cadiz Main, and Cadiz West.  FNB is member FDIC and an Equal Housing Lender.
Kentucky was on the frontier. Now you are.
The frontier was always about wanting more. Since 1875, we've made it our mission to help jump start small business and farming in the communities we call home. You're ready to start something. We're ready to help. Start by watching the stories that started at FNB.