FNB Makes $2,220 Donation to Murray & Calloway Schools' Family Resource Centers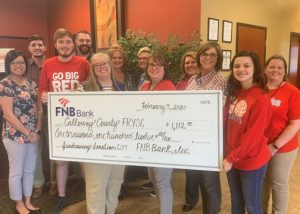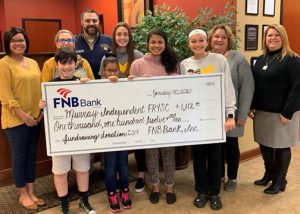 FNB Bank proudly donated over $2,220 to the Family Resource Centers of Murray Independent Schools and Calloway County Schools as a result of the bank's 2019 philanthropic efforts in Murray-Calloway County. The Resource Centers for both schools work to ensure that all students have the opportunity to succeed by identifying unmet needs affecting children and families and mobilizing available resources to help meet those needs. They also organize programs and provide services in such areas as job/career counseling, parenting, youth enrichment and childcare.
"We are honored to be able to fundraise and volunteer year after year for the family resource centers at both school systems,†stated Ashley Gibson, FNB Mortgage Loan Officer. "What they do for the families in our community is truly inspiring.â€
FNB employees coordinated and participated in numerous fundraising events benefiting the Family Resource Centers throughout 2019, including various jean days and an April Cookout. In addition, FNB employees helped to stuff backpacks in preparation for the Murray/Calloway Back to School Blast and hosted a booth at the event to hand out free school supplies. Employees also volunteered to support the Murray Tiger and Calloway Laker Christmas programs by donating time and gifts to the causes. Christmas tree tags from both schools were also available at FNB's Murray Office; these tags provided support to local families in Murray-Calloway County that needed assistance during the holiday season.
FNB Bank, founded in 1875, is one of the oldest banks in the state of Kentucky and ranks among the highest in the nation in the area of safety and soundness. The bank currently has nine locations: Mayfield Main, Mayfield Southside, Wingo, Lone Oak, Paducah, Murray North, Murray South, Cadiz Main, and Cadiz West. FNB is member FDIC and an Equal Housing Lender.
Kentucky was on the frontier. Now you are.
The frontier was always about wanting more. Since 1875, we've made it our mission to help jump start small business and farming in the communities we call home. You're ready to start something. We're ready to help. Start by watching the stories that started at FNB.