FNB Makes $2,000 Donation to Paducah Child Watch as Result of 2019 Fundraising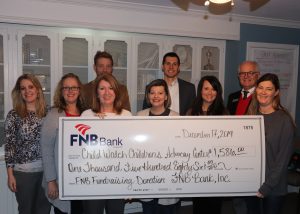 FNB proudly donated $2,000 to Paducah Child Watch as a result of FNB's 2019 philanthropic fundraising efforts in Paducah-McCracken County. The donation will be used to assist with their daily missions of serving the community.
"FNB Bank is proud to include Child Watch Counseling and Advocacy Center as part of our McCracken County philanthropic efforts," stated Ike Nichols, FNB McCracken County Market President. "FNB coordinates various fundraising initiatives throughout the year to support our selected charities and we hope this donation will assist Child Watch in making a difference in the lives of local children."
Throughout 2019, FNB employees coordinated and participated in numerous fundraising events benefiting Paducah Child Watch. Various fundraising efforts included a Midtown Market box lunch fundraiser and a Paducah Mini Golf Event. Employees also participated in various jean days throughout the year to benefit the worthy causes. FNB donated $458.84 in August and $1586.00 in December for a total donation of $2044.84 to Child Watch in 2019.
The mission of Paducah Child Watch is to provide children and families in Western Kentucky with education, advocacy, and treatment that prevents child abuse, encourages family stability, promotes healthy relationships, enhances individual well-being, and cultivates safe, nurturing families. Child Watch was established in Paducah in 1984 to address the critical issue of child abuse and neglect in the community. Grant funds and community support allow the program to provide their important services free of charge. To learn more about the Paducah Child Watch Program, please contact Janie Criner, Executive Director at (270) 443-1440 or by e-mail at jcriner@childwatchcac.org.
FNB Bank, founded in 1875, is one of the oldest banks in the state of Kentucky and ranks among the highest in the nation in the area of safety and soundness. The bank currently has nine locations: Mayfield Main, Mayfield Southside, Wingo, Lone Oak, Paducah, Murray North, Murray South, Cadiz Main, and Cadiz West. FNB is member FDIC and an Equal Housing Lender.
Kentucky was on the frontier. Now you are.
The frontier was always about wanting more. Since 1875, we've made it our mission to help jump start small business and farming in the communities we call home. You're ready to start something. We're ready to help. Start by watching the stories that started at FNB.