FNB Makes $15,000 Investment to Paducah Symphony Orchestra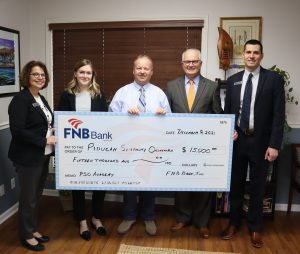 FNB Bank, Inc. (FNB) is proud to help the Paducah Symphony Orchestra (PSO) raise funds for their new PSO Music Academy with a $15,000 investment.  As part of the investment, FNB will be naming the conference room in the Music Academy on the new PSO campus, located in the Walter C. Jetton School building.  The new Music Academy will serve the youth of Paducah, McCracken County, and the surrounding region by providing accessible, affordable private instruction.
"On behalf of the Paducah Symphony Orchestra Board of Directors and staff we are very grateful for this support from FNB Bank," stated Bob Turok, President of the PSO Board. "The community support that non-profit organizations like ours receive is vital to our existence. FNB Bank is a valued community partner, and we can't thank you enough for your sponsorship of the Green Room in the new Paducah Symphony Orchestra Academy." Turok also serves as Vice President and Business Banking Officer for FNB.
The investment in the PSO's Music Academy will allow for more local opportunities for students to get high-quality instruction outside of their school classroom.  Many students must travel out of town for additional instruction, which is typically not conducive for local families due to time and cost constraints.  The PSO Music Academy will help close a gap on the distance for quality music education and provide continuing education opportunities, as the PSO plans to offer future summer workshops to keep local students engaged.
The PSO Music Academy is one piece to the overall fundraising campaign, with an overall goal of raising $600,000 by the end of 2022.  Money raised for the campaign will not be used to operate the symphony and will be handled in a separate account designated solely for the Music Academy.  Donations are still needed to reach the goal.  Other interested investors are encouraged to call Reece King or Morgan Walker at (270) 444-0065.
FNB Bank, founded in 1875, is one of the oldest banks in the state of Kentucky and ranks among the highest in the nation in the area of safety and soundness. FNB is a 2021 'Best Places to Work in Kentucky' Small Business Category Award Winner.  The bank currently has nine locations: Mayfield Main, Mayfield Southside, Wingo, Lone Oak, Paducah Midtown, Murray North, Murray South, Cadiz Main, and Cadiz West.  FNB is member FDIC and an Equal Housing Lender.
Kentucky was on the frontier. Now you are.
The frontier was always about wanting more. Since 1875, we've made it our mission to help jump start small business and farming in the communities we call home. You're ready to start something. We're ready to help. Start by watching the stories that started at FNB.