FNB Makes $100,000 Investment to Murray Parks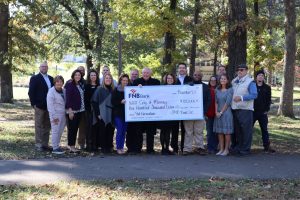 FNB Bank, Inc. (FNB) is proud to help the City of Murray take another step forward to raise the funds needed for the Central Park swimming pool renovations and other park improvements as needed with a $100,000 investment.  FNB is the most recent community centered business/foundation that has joined in to help raise money for the needed park renovations.  As part of the investment, FNB will be naming the facilities at Chestnut Park, The FNB Bank Sports Complex.  The FNB Bank Sports Complex hosts a variety of recreational opportunities, such as Basketball, Pickle Ball, Ball Diamonds, Par 3 Foot Golf Course, Walking Trail, Picnic Pavilions and more.
"The Central Park pool is important for the Murray-Calloway County community. It has provided years of family fun and was where many children learned to swim through Red Cross lessons.  The pool closing has left a void in our town for several years now." stated Sally Hopkins, FNB President and CEO.  "We are proud to be a part of this very important community project to get the pool back up and running. The restoration of the pool will make a positive impact for years to come."
The Central Park pool has been closed since 2019 due to a lack of funding to make the renovations needed.  It is anticipated that the estimate for the pool renovation expenses will cost $900,000 to $1 million.  Other interested investors are encouraged to call the park office at (270) 762-0325.
FNB Bank, founded in 1875, is one of the oldest banks in the state of Kentucky and ranks among the highest in the nation in the area of safety and soundness. FNB is a 2021 'Best Places to Work in Kentucky' Small Business Category Award Winner.  The bank currently has nine locations: Mayfield Main, Mayfield Southside, Wingo, Lone Oak, Paducah Midtown, Murray North, Murray South, Cadiz Main, and Cadiz West.  FNB is member FDIC and an Equal Housing Lender.
Kentucky was on the frontier. Now you are.
The frontier was always about wanting more. Since 1875, we've made it our mission to help jump start small business and farming in the communities we call home. You're ready to start something. We're ready to help. Start by watching the stories that started at FNB.