FNB Makes $10,000 Investment to Homes & Hope for Kentucky
FNB Bank has joined forces to support Homes and Hope for Kentucky Inc. (HHK) with a $10,000 donation to help go toward rebuilding homes for tornado victims in Mayfield-Graves County. HHK, operating under the non-profit Mayfield Rotary Foundation, has set a goal to build new homes for 100 Mayfield residents who lost everything from an historic category F4 tornado that decimated the city on December 10th, 2021.
HHK is partnering with Mennonite Disaster Service, a faith-based initiative headquartered in Pennsylvania that has been repairing and rebuilding homes in disaster zones for more than 70 years. All labor has been donated by Mennonite Disaster Service, but tax-deductible donations are still needed to reach the goal of 100 new homes for families in need. It costs approximately $80,000 to build each home and there are currently 25-30 families working on applications for a new home, with five of those recently receiving approval. On January 28th, HHK will have a groundbreaking for the first new home being built in Mayfield through the program. In addition, FNB and other Federal Home Loan member banks will be processing the loans for the new homes.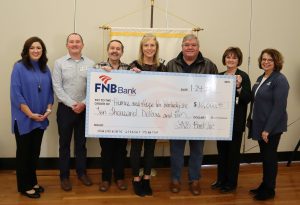 "We are proud to support Homes and Hope for Kentucky,†stated Sally Hopkins, FNB President and CEO. "The program's name says it all and we are happy to donate to the rebuilding efforts that will provide so many deserving citizens with new homes and restored hope. FNB is happy to be one of the bank's processing the loans for the program that will make such a difference in our community as we rebuild together.â€
To apply for a home or make a tax-deductible donation to specifically help with the rebuilding efforts in Mayfield-Graves County, go to homesandhopeforky.com for more information.
FNB Bank, founded in 1875, is one of the oldest banks in the state of Kentucky and ranks among the highest in the nation in the area of safety and soundness. FNB is a 2021 'Best Places to Work in Kentucky' Small Business Category Award Winner. The bank currently has nine locations: Mayfield Main, Mayfield Southside, Wingo, Lone Oak, Paducah Midtown, Murray North, Murray South, Cadiz Main, Cadiz West, and Marshall County in 2022. FNB is member FDIC and an Equal Housing Lender.
Kentucky was on the frontier. Now you are.
The frontier was always about wanting more. Since 1875, we've made it our mission to help jump start small business and farming in the communities we call home. You're ready to start something. We're ready to help. Start by watching the stories that started at FNB.