FNB Installs New ATM at WK&T Technology Park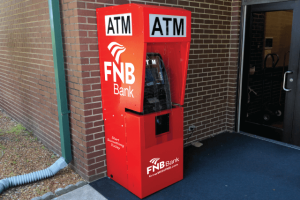 FNB is happy to announce the addition of a new walk-up ATM at the WK&T Technology Park, located at 100 WK&T Technology Drive, Building 300 (near the gazebo between WK&T and FNB's administrative office buildings).  The ATM is a cash disbursing only machine and FNB customers will not incur any transaction charges to use the machine with their FNB debit cards.
"With the recent influx of new tenants at the WK&T Technology Park following the December 10th tornado, and with the addition of Carr's Café, we wanted to fulfill a need for our customers and community," stated Sally Hopkins, FNB President & CEO.  "We are happy that WK&T proposed the idea to offer the ATM to their growing campus and we hope it will provide an added convenience to those who work and live in Northern Graves County."
FNB Bank, founded in 1875, is one of the oldest banks in the state of Kentucky with assets exceeding 650 million.  FNB ranks among the highest in the nation in the area of safety and soundness. FNB is a 2021 and 2022 'Best Places to Work in Kentucky' Small Business Category Award Winner.  The bank currently has nine locations located in Graves, McCracken, Calloway and Trigg County, with another office coming soon in 2022 in Marshall County.  FNB is Member FDIC and an Equal Housing Lender.
Kentucky was on the frontier. Now you are.
The frontier was always about wanting more. Since 1875, we've made it our mission to help jump start small business and farming in the communities we call home. You're ready to start something. We're ready to help. Start by watching the stories that started at FNB.