FNB Employees Raise Money to Benefit Eastern Kentucky Flood Victims
FNB Bank employees recently held a Fundraising Jean Day on Friday, August 12th to raise money for eastern Kentucky flood victims. The total amount raised by employees was $710. Of that money, $360 was donated to the Kentucky Bankers Association relief fund to aid those impacted by the flooding. The other $350 was divided and loaded onto FNB Gift Cards to be sent directly to flood victims in conjunction with the City of Mayfield and Mayor Kathy O'Nan's relief efforts.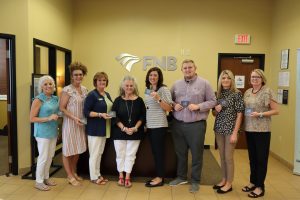 "Our hearts go out to our friends in Eastern Kentucky, as they recover and rebuild due to the recent devastating flooding," stated Donnitta Pyle, FNB Vice President/Office Manager.  "We hope this donation will alleviate some of the burden for those who experienced loss due to the flooding. At FNB, we know all too well about experiencing natural disasters and our hope is to repay some of the outpouring of love and support that we received from across the state and beyond in the wake of our recent tragedy."
FNB Bank, founded in 1875, is one of the oldest banks in the state of Kentucky with assets exceeding $680 million.  FNB ranks among the highest in the nation in the area of safety and soundness. FNB is a 2021 and 2022 'Best Places to Work in Kentucky' Small Business Category Award Winner.  The bank currently has ten locations located in Graves, McCracken, Calloway, Trigg and Marshall County. FNB is Member FDIC and an Equal Housing Lender.
Kentucky was on the frontier. Now you are.
The frontier was always about wanting more. Since 1875, we've made it our mission to help jump start small business and farming in the communities we call home. You're ready to start something. We're ready to help. Start by watching the stories that started at FNB.