FNB Makes $500 Christmas Donation to Laker Christmas and Tiger Christmas
DECEMBER 13, 2018
December 7, 2018 (Mayfield, KY) During the month of December, FNB Bank made a $500 Christmas donation to two worthy charities on behalf of their customers and community members in Murray-Calloway County.  Both the Laker and Tiger Christmas assistance programs split the donation to fulfill their missions.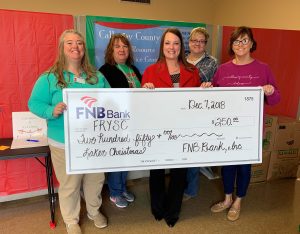 "Giving back to our local charities is the best gift we can give during this holiday season," stated Ashley Gibson, FNB Mortgage Loan Officer. "Giving back is a great reminder of what the holiday season is truly about and how blessed we are to live in such an amazing community with programs that help those in need."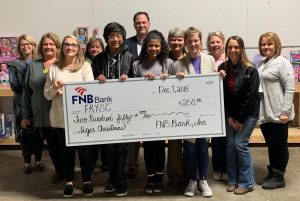 In addition to the bank's monetary donation to Murray and Calloway County Schools, Christmas tree tags from both schools were available at FNB's Murray Office. The tags help to support local families in Murray-Calloway County that need assistance during the holiday season.
FNB Bank, founded in 1875, is one of the oldest banks in the state of Kentucky and ranks among the highest in the nation in the area of safety and soundness.  The bank currently has eight locations:  Mayfield Main, Mayfield Southside, Wingo, Lone Oak, Paducah, Murray, Cadiz Main, and Cadiz West.  FNB is member FDIC and an Equal Housing Lender.