FNB Donates T-Shirts to Wingo Elementary School's VIP Program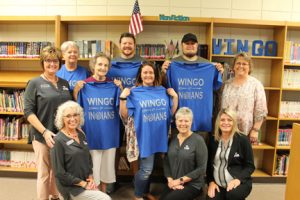 August 8, 2018 (Mayfield, KY) FNB Bank is proud to announce that they have donated t-shirts to Wingo Elementary School's VIP (Valued Indian Partners) Volunteer Program. The VIP Program is new for the 2018-2019 school year and consists of community and parent volunteers who graciously donate their time to the school system. At this time there are approximately 50 volunteers enrolled in the program.
"We are honored to play our part in helping to make Wingo Elementary School's volunteer program a success," stated Elyce Ray, FNB Wingo Office Manager. "In a small-town community like Wingo, it's great to see so many people willing to volunteer their time for the betterment of our children."
FNB Bank, founded in 1875, is one of the oldest banks in the state of Kentucky and ranks among the highest in the nation in the area of safety and soundness. The bank currently has eight locations: Mayfield Main, Mayfield Southside, Wingo, Lone Oak, Paducah, Murray, Cadiz Main, and Cadiz West. FNB is member FDIC and an Equal Housing Lender.
Kentucky was on the frontier. Now you are.
The frontier was always about wanting more. Since 1875, we've made it our mission to help jump start small business and farming in the communities we call home. You're ready to start something. We're ready to help. Start by watching the stories that started at FNB.