FNB Announces New Temporary Mobile Unit Office in Mayfield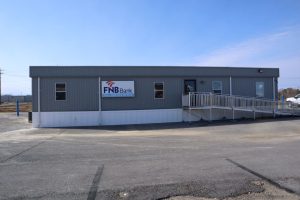 FNB Bank is proud to announce the addition of a temporary mobile unit office in Mayfield.  FNB's new mobile unit office will be located at 201 North 8th Street (former site of FNB Operations Center) and will temporarily operate through the rebuilding phase of FNB's Mayfield Main Office.
The mobile unit will offer the same services as a standard FNB branch including the ability to process teller transactions, open deposit accounts, and lending services.  The unit will also include one drive-through lane for added customer convenience as well as a night depository.  ATM services will still be located at our Mayfield South office at 310 Charles Drive.  Hours of operation will be:
Lobby Hours
Monday – Thursday 8:30 AM – 4:00 PM
Friday 8:30 AM – 5:00 PM
Drive-Thru Hours
Monday – Thursday 8:00 AM – 4:00 PM
Friday 8:00 AM – 5:00 PM
The opening of FNB's Mayfield Mobile Unit is set for Thursday, December 1st.  The Mayfield-Graves County Chamber of Commerce will host a ribbon cutting on Tuesday, December 6th at 11 AM.  More details will be announced when available.
FNB Bank, founded in 1875, is one of the oldest banks in the state of Kentucky with assets exceeding 650 million.  FNB ranks among the highest in the nation in the area of safety and soundness. FNB is a 2021 and 2022 'Best Places to Work in Kentucky' Small Business Category Award Winner.  The bank currently has ten locations located in Graves, McCracken, Calloway, Trigg and Marshall County. FNB is Member FDIC and an Equal Housing Lender.
Kentucky was on the frontier. Now you are.
The frontier was always about wanting more. Since 1875, we've made it our mission to help jump start small business and farming in the communities we call home. You're ready to start something. We're ready to help. Start by watching the stories that started at FNB.