Clint Roberts Named Compliance Specialist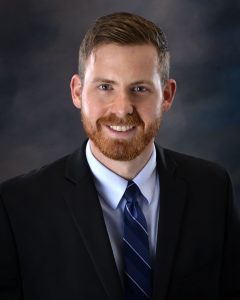 FNB Bank is proud to announce that Clint Roberts was recently named Compliance Specialist. Clint has seven years of banking experience and previously served as Security Officer and Audit Clerk for FNB. He will continue in his Security Officer role along with his new position.
Clint is a graduate of West Kentucky Community and Technical College where he obtained an Associate of Science degree. He also obtained his Certified Community Bank Security Officer certification from the Independent Community Bankers of America. Clint currently serves as Treasurer for Paducah Child Watch Counseling and Advocacy Center. He resides in Paducah.
FNB Bank, founded in 1875, is one of the oldest banks in the state of Kentucky and ranks among the highest in the nation in the area of safety and soundness. FNB is a 2021 'Best Places to Work in Kentucky' Small Business Category Award Winner.  The bank currently has nine locations: Mayfield Main, Mayfield Southside, Wingo, Lone Oak, Paducah Midtown, Murray North, Murray South, Cadiz Main, and Cadiz West.  FNB is member FDIC and an Equal Housing Lender.
Kentucky was on the frontier. Now you are.
The frontier was always about wanting more. Since 1875, we've made it our mission to help jump start small business and farming in the communities we call home. You're ready to start something. We're ready to help. Start by watching the stories that started at FNB.