Brett Watson Named Commercial Loan Operations Specialist at FNB Bank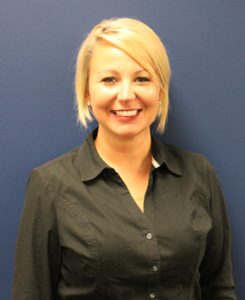 July 19, 2018 (Mayfield, KY) FNB Bank is proud to announce that Brett Watson was recently named Commercial Loan Operations Specialist. Watson has 15 years of banking experience having previously served as a Teller, Customer Service Representative, Branch Manager and Commercial Loan Assistant. In her new position Brett will use her experience and expertise to help improve workflow and efficiency within the company, specifically related to loan activity.
Brett is a 2001 graduate of Marshall County High School and attended Murray State University. She currently serves as Board Treasurer for United Way of Paducah-McCracken County and is a member of the Site-Based Decision-Making Committee for Reidland Intermediate School. She also volunteers with United Way's Reading PAL program. Brett was a member of the Leadership Paducah Class #29 and currently serves on the Leadership Paducah Foundation Board. Brett currently resides in Reidland with her husband, Erik and their two children: Cameron and Peyton.
FNB Bank, founded in 1875, is one of the oldest banks in the state of Kentucky and ranks among the highest in the nation in the area of safety and soundness. The bank currently has eight locations: Mayfield Main, Mayfield Southside, Wingo, Lone Oak, Paducah, Murray, Cadiz Main, and Cadiz West. FNB is member FDIC and an Equal Housing Lender.
Kentucky was on the frontier. Now you are.
The frontier was always about wanting more. Since 1875, we've made it our mission to help jump start small business and farming in the communities we call home. You're ready to start something. We're ready to help. Start by watching the stories that started at FNB.