Bradley Shoulta Joins FNB Bank as Deposit Officer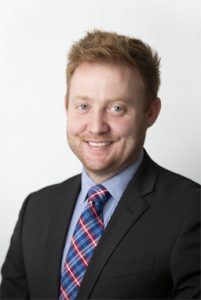 January 8, 2019 (Mayfield, KY) FNB Bank is proud to announce that Bradley Shoulta has joined FNB Bank as a Deposit Officer. Bradley has previously worked as a merchant services account executive and finance manager.
"We could not be more pleased to have Bradley join our team.  His passion for quality service and growth align well with FNB's overall mission," stated Marty Nichols, FNB President and CEO.  "We are eager for Bradley to begin serving the business community to provide a noticeably better banking experience in the McCracken County market."
Bradley is a graduate of the University of Kentucky with a bachelor's degree in Business Administration-Marketing. He received his MBA from the University of Newcastle, Australia and attended Kentucky Bankers Association banking school. Bradley also serves as a Networking Chair for Paducah Young Professionals, is on the Membership and Marketing Committee for Paducah Chamber and is the President of Business Network International's Paducah Chapter. He attends St. Thomas More Catholic Church. Bradley resides in Paducah with his wife, April, and their three children: Zoe, Knox and Sam.
FNB Bank, founded in 1875, is one of the oldest banks in the state of Kentucky and ranks among the highest in the nation in the area of safety and soundness.  The bank currently has eight locations:  Mayfield Main, Mayfield Southside, Wingo, Lone Oak, Paducah, Murray, Cadiz Main, and Cadiz West.  FNB is member FDIC and an Equal Housing Lender.
Kentucky was on the frontier. Now you are.
The frontier was always about wanting more. Since 1875, we've made it our mission to help jump start small business and farming in the communities we call home. You're ready to start something. We're ready to help. Start by watching the stories that started at FNB.