FNB Freedom Fest Parade on Thursday, July 4th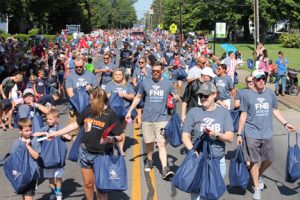 Celebrate Independence Day in Murray, Kentucky, on Thursday, July 4 with Freedom Fest! Family fun and patriotic spirit await you during this jam-packed day of events. The FNB Bank Freedom Fest Parade marches down Main Street at 9:30 a.m., as thousands of locals and visitors line the streets. FNB Bank will lead the parade with lots of fun giveaways and candy to be handed out. This year the FNB branded Murray Transit Bus will also join in the parade.
Kentucky was on the frontier. Now you are.
The frontier was always about wanting more. Since 1875, we've made it our mission to help jump start small business and farming in the communities we call home. You're ready to start something. We're ready to help. Start by watching the stories that started at FNB.