Electronics Recycling Event at FNB's Cadiz Main Office
FNB Bank is proud to offer our community the opportunity to responsibly recycle obsolete electronics for FREE* on Saturday, September 7 from 9:00 AM to 12:00 PM. The event will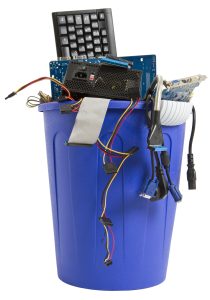 take place at FNB Bank's Cadiz Main Office located at 2558 Main Street in Cadiz.
All materials, recycled or shredded, will be disposed of in a safe and environmentally-responsible manner by OK E-Scrap LLC. Come enjoy a day of Fall Cleaning, FNB Giveaways and a Live Remote by WKDZ Radio.  Stay up to date with our event on our Electronic Recycling Facebook Event Page.
FREE Acceptable E-Waste
Computers, Servers, Hard Drives, iPads/Tablets, Kindles, Electronic Book Readers, Flat Screen Monitors/TVS, Laptops, All Circuit Boards, DVD Players, VCRs, Modems, Cable Boxes, Satellite Recievers, Routers, Cell/Mobile Phones, Telephone Systems and Hardware, Insulated Cable and Wire, Video Games/X-Boxes, USB Cords and Batteries.
Unacceptable E-Waste
CRT Monitors, Console TVs, Projection TVs, Paint or Varnish, Glass Bulbs, Household Batteries (Ni-Cd, Alkaline, Lithium Primary)
*Certificates of Destruction are available upon request for $5/each.

Kentucky was on the frontier. Now you are.
The frontier was always about wanting more. Since 1875, we've made it our mission to help jump start small business and farming in the communities we call home. You're ready to start something. We're ready to help. Start by watching the stories that started at FNB.